Introducing Veronica Perez: Our New Office Manager on a Mission
We're thrilled to introduce you to the latest addition to our team, Veronica Perez, who has taken on the pivotal role of Office Manager at DeMine Immigration. Veronica brings a unique blend of compassion, dedication, and cultural insight to our organization, making her an invaluable asset as we strive to help individuals and families achieve their American Dream.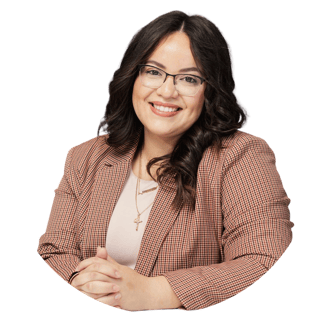 Veronica Perez
Office Manager
A Native of Southwest Florida with a Heart for Service
Veronica's journey to becoming the Office Manager at DeMine Immigration has been shaped by her deep-rooted passion for working with vulnerable populations and her commitment to making a positive impact in their lives. Born and raised in the vibrant region of Southwest Florida, Veronica developed a profound understanding of the diverse communities and their unique challenges.
Education and Expertise
Veronica's educational background perfectly aligns with her mission to assist vulnerable populations. She holds a Bachelor's Degree in Social Work from Florida Gulf Coast University, where she gained a solid foundation in the principles of social justice, community development, and advocacy. Her academic achievements have equipped her with the knowledge and skills necessary to navigate complex immigration processes while providing compassionate support to those in need.
A Multicultural Perspective
One of Veronica's most remarkable qualities is her rich Colombian heritage. As a first-generation American with strong ties to her Colombian roots, she is not only fluent in Spanish but also deeply connected to the cultural nuances that often play a crucial role in the immigration process. This cultural insight allows Veronica to connect with clients on a personal level, ensuring that their unique backgrounds and needs are understood and respected.
Enhancing the Client Experience
As our Office Manager, Veronica's responsibilities include developing and streamlining internal operations to enhance the client experience at DeMine Immigration. Her role will be instrumental in ensuring that our clients receive the highest level of support and guidance throughout their immigration journey. From managing administrative processes to coordinating client interactions, Veronica's expertise will be the backbone of our commitment to excellence.
Join Us in Welcoming Veronica Perez
Veronica's arrival marks an exciting new chapter in the story of DeMine Immigration. Her passion for serving vulnerable populations, combined with her educational background and multicultural perspective, makes her the perfect fit for our team. With her support, we are better equipped than ever to help individuals and families navigate the complex immigration landscape and work towards their American Dream.
We invite you to join us in extending a warm welcome to Veronica Perez. As we continue to grow and evolve as an organization, we are confident that Veronica's dedication and expertise will play a pivotal role in our mission to make the American Dream a reality for all those we serve. Together, we look forward to a brighter future filled with hope, opportunity, and success.
Indera DeMine, Esq
Ms. DeMine is a resident of Southwest Florida and a solo practitioner located in downtown Fort Myers. Ms. DeMine started her immigration law career immediately after graduating Ave Maria School of Law in 2012. She began working for a local firm in Fort Myers, Florida for almost 4 years. As an immigrant herself, Ms. DeMine has always been passionate about Immigration law and welcomed the opportunity to help her clients navigate the often confusing, immigration process.