DeMine Immigration Law Firm is delighted to share some exciting news with our clients and community. We are thrilled to welcome Attorney Emmanuella Casimir to our team, where she will be an integral part of our Removal Defense department. Emmanuella's journey and background make her an exceptional fit for our firm, and we can't wait to see the positive impact she will undoubtedly have on our clients and their cases.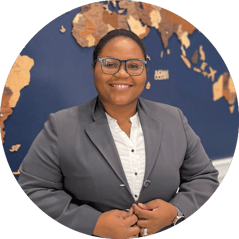 Emmanuella Casimir
Associate Attorney of Removal Defense
A Unique Background
Emmanuella Casimir was born in Haiti, a country rich in culture and history. Her Haitian heritage has not only shaped her identity but also fueled her passion for helping others navigate the complexities of immigration law. Emmanuella's personal experiences have given her a profound understanding of the challenges faced by immigrants, making her a compassionate and empathetic advocate for her clients.
Education and Experience
Emmanuella's dedication to the field of law is evident in her academic and professional achievements. She graduated from Barry University School of Law in 2019, where she honed her legal skills and cultivated a deep appreciation for justice and fairness. Prior to joining DeMine Immigration Law Firm, Emmanuella served as a Public Defender with the 20th Judicial Circuit. This experience allowed her to develop a strong foundation in litigation, an essential skill in removal defense cases.
A Multilingual Advantage
One of Emmanuella's standout attributes is her fluency in Creole, a language widely spoken in the Haitian community. This linguistic ability allows her to connect with clients on a deeper level, understanding their concerns, fears, and hopes more intimately. Emmanuella's cultural competency and proficiency in Creole enable her to bridge communication gaps and build strong relationships with clients from diverse backgrounds.
A Heart for Service
Beyond her legal prowess, Emmanuella's heart for service shines brightly. She is deeply engaged in the Haitian community, contributing her time and energy to uplift and support those in need. This commitment to giving back reflects her genuine desire to make a meaningful difference in the lives of others, a quality that resonates with our firm's values.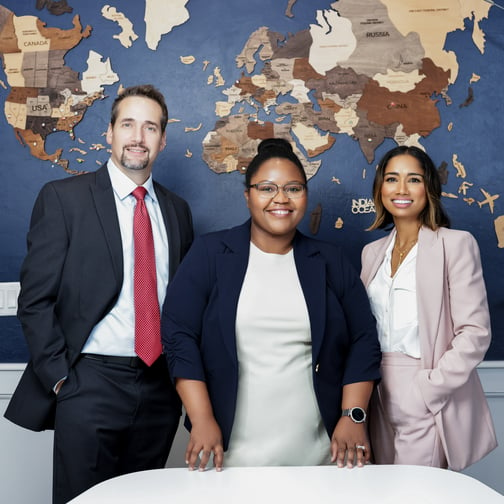 Emmanuella Casimir, Associate Attorney of Removal Defense with Founding Partners, Thomas & Indera DeMine, Esq. of DeMine Immigration Law Firm
Looking Ahead
As Emmanuella takes on the role of a litigation attorney specializing in removal defense cases, we are eager to witness her growth and impact. Her unique blend of courtroom experience, immigrant background, linguistic skills, and compassionate approach make her a force to be reckoned with in the field of immigration law. We have no doubt that Emmanuella will not only secure favorable outcomes for her clients but also provide them with the support and guidance they deserve during what can often be a challenging journey.
At DeMine Immigration Law Firm, we are excited to have Emmanuella Casimir on board and look forward to the positive contributions she will bring to our clients and the entire immigration law community. Her story is an inspiration to us all, reminding us of the power of dedication, empathy, and the pursuit of justice.
Ms. DeMine is a resident of Southwest Florida and a solo practitioner located in downtown Fort Myers. Ms. DeMine started her immigration law career immediately after graduating Ave Maria School of Law in 2012. She began working for a local firm in Fort Myers, Florida for almost 4 years. As an immigrant herself, Ms. DeMine has always been passionate about Immigration law and welcomed the opportunity to help her clients navigate the often confusing, immigration process.