Change is a constant in the world of law, just as it is in life. As we bid farewell to our esteemed Supervising Paralegal, Arlin Vieyra, we find ourselves both reflective and excited for the journey that lies ahead. Arlin's departure after five years of dedicated service marks the beginning of a new chapter for her, and as a team at DeMine Immigration Law Firm, we are honored to have been a part of her journey.
Arlin's decision to pursue higher education is a testament to her unwavering commitment to personal growth and development. Throughout her time at our firm, she has demonstrated exceptional professionalism, dedication, and a deep understanding of immigration law. Her expertise and dedication have not only impacted the lives of our clients but also left an indelible mark on our firm's history.
It is impossible to quantify the significance of Arlin's contributions to our law firm. Her attention to detail, meticulous research, and strong interpersonal skills have consistently elevated the quality of our services. She has been a guiding light for the entire team, embodying the values that DeMine Immigration Law Firm holds dear – integrity, empathy, and a relentless pursuit of excellence.
To celebrate Arlin's new chapter, our firm recently came together for an evening of painting and camaraderie. The event served as a poignant reminder of the bonds we've forged as a team and the cherished memories we've created together. Amidst strokes of paint and shared laughter, we celebrated Arlin's accomplishments and wished her success in her future endeavors.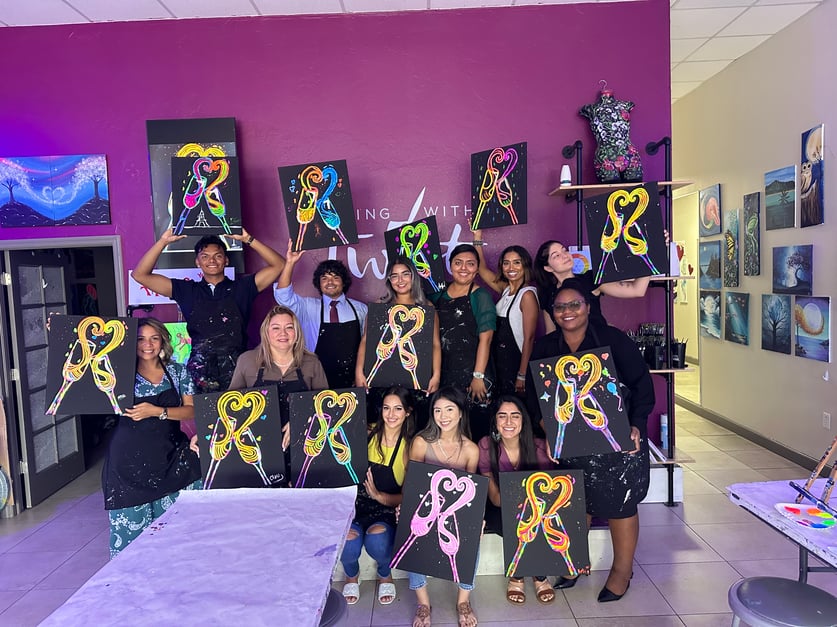 Group Paint Night with DeMine Immigration Law Firm
While Arlin's physical presence will be missed, her legacy will continue to inspire and influence us. As we navigate the legal landscape, we will carry forward the lessons she has imparted and the standards she has set. We are confident that her passion for learning and her dedication to the pursuit of justice will serve as a beacon for all of us as we continue to serve our clients with the utmost professionalism and compassion.
As we bid farewell to Arlin Vieyra, we do so with a mixture of gratitude and excitement. Gratitude for the invaluable contributions she has made to our firm and the lives she has touched, and excitement for the promising journey that awaits her. While our paths may diverge, the impact of her time with us will forever remain a part of our collective identity.
Change may be a constant, but the lessons we learn and the relationships we build along the way are what truly shape us. As we continue to evolve and grow, we extend our heartfelt best wishes to Arlin. May her pursuit of higher education be as enriching and fulfilling as her time with us has been.
Thank you, Arlin Vieyra, for being an integral part of our history and for leaving an indelible mark on DeMine Immigration Law Firm. Here's to new beginnings, continued success, and the enduring power of shared memories.
Ms. DeMine is a resident of Southwest Florida and a solo practitioner located in downtown Fort Myers. Ms. DeMine started her immigration law career immediately after graduating Ave Maria School of Law in 2012. She began working for a local firm in Fort Myers, Florida for almost 4 years. As an immigrant herself, Ms. DeMine has always been passionate about Immigration law and welcomed the opportunity to help her clients navigate the often confusing, immigration process.